154 Ethan Allen Drive
Dahlonega, 30533
CATEGORIES & HEADINGSdetails >>
www.ArcadiaRoof.com
The Arcadia Louvered Roof is a completely custom adjustable pergola that can be operated with the touch of a button. You are in charge of how much sun, shade or rain protection you would like. Made from a thick gauge extruded aluminum, stainless steel and powder coated to your choice of color, the system is the most durable, versatile and functional louvered roof on the market. We are the only louvered company to engineer our system for high winds, heavy snows and constantly changing weather conditions. You never even have to worry about your pergola rusting, corroding or rotting away! Contact us today to find an authorized dealer near you!

www.Adjust-A-Pergola.com
Adjust-A-Pergola is a revolutionary, patent pending kit that transforms any new or existing pergola into an extraordinary Adjustable Pergola. Our DIY kit provides everything you need to add functionality and versatility to an upcoming pergola project. You could also transform an existing pergola into an extraordinary adjustable pergola in just six easy steps! Traditional pergolas or lattice patio covers cannot provide the shade you are looking for on those hot summer days. With the Adjust-A-Pergola kit you could build/transform a pergola that allowed you to adjust the amount of light you want to let in. With a quick adjustment, you could position the louvers so that you were in complete shade or full sun!
Vendor Showcase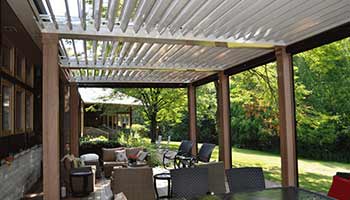 Adjust-A-Pergola is a revolutionary, patent pending kit that transforms any new or existing pergola into an extraordinary Adjustable Pergola. Our DIY kit provides everything you need to add functionality and versatility to an upcoming pergola project. You could also transform an existing pergola into an extraordinary adjustable pergola in just six easy steps! Traditional pergolas or lattice patio covers cannot provide the shade you are looking for on those hot summer days. With the Adjust-A-Pergola kit you could build/transform a pergola that allowed you to adjust the amount of light you want to let in. With a quick adjustment, you could position the louvers so that you were in complete shade or full sun! read more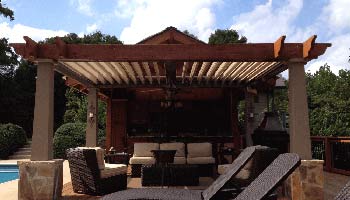 The Arcadia Louvered Roof is a completely custom adjustable pergola that can be operated with the touch of a button. You are in charge of how much sun, shade or rain protection you would like. Made from a thick gauge extruded aluminum, stainless steel and powder coated to your choice of color, the system is the most durable, versatile and functional louvered roof on the market. We are the only louvered company to engineer our system for high winds, heavy snows and constantly changing weather conditions. You never even have to worry about your pergola rusting, corroding or rotting away! Contact us today to find an authorized dealer near you! read more