251 Enterprise Drive
Lake Mills, WI 53551
Company Established In
2001
HOURS OF OPERATION
8:00 AM to 4:30 PM CST
CATEGORIES & HEADINGSdetails >>
Kapro is a leading manufacturer and developer of innovative hand tools for the professional and DIY markets.
Kapro products are market leaders in excellence - innovation, design, and value.
Kapro is a source of growth, pride identification, and well-being for all of its partners: customers, staff, suppliers, shareholders and the communities in which we live.
Kapro diligently protects the environment for future generations.
Kapro represents excellence and success, throughout the world.
Vendor Showcase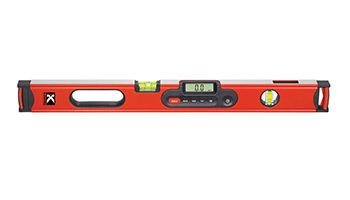 Features:
Plumb Site® Dual-View™ vial, solid acrylic vials, Ergo Grip™ handles, shockproof end caps
45° tilted LCD display with backlight
180º readout – display remains straight when the level is upside-down
Digital accuracy: 0.1º at level and plumb, 0.2º at other angles
HOLD function
MODE function: Degree/percentage/pitch
Memory recall – 9 measurements
Buzzer at 0º, 45º and 90º
Recalibration function and "False Zero"
Rainproof & dust resistant
9V battery + battery indicator
Large silicon buttons which are easy to use while wearing gloves
Two finely milled surfaces with rare earth magnets read more