812 Proctor Avenue
Ogdensburg, NY 13669
HOURS OF OPERATION
8:30 am - 5:30 pm
CATEGORIES & HEADINGSdetails >>
The Titan Building Products family of post anchors, railing connectors and footing systems will help you build more projects faster, easier, better looking and longer lasting. Your customers will love the elegant design, reduced clutter and visible fasteners. Most of all, they will love you. So make sure Titan products are part of your arsenal of building solutions this year.

Titan Post Anchor™

It's North America's most popular post anchor for a reason. Install wood posts for deck railings, support posts, pergolas or even fences on wood, composite, concrete or stone surfaces faster and easier than any thing else. And its engineered to meet residential code standards for the US and Canada when installed as directed.

Shadow Rail Connector™

Build railings like a seasoned Pro regardless of your skill level. The first completely hidden fastener railing connector for level and stair applications. Anyone can get amazing results! Put the focus on your craftsmanship, not the fasteners.

Deck Foot Anchor™

Quickly and easily install ground anchored footings in minutes! Get the strength and security similar to a poured concrete footing without the labor, time and cost. It's the perfect most user friendly footing solution for floating free standing decks.

You'll wonder how you lived without it. Get it for your next project today!

Mention "NADRA2018" and get 5% off your first order!
Vendor Showcase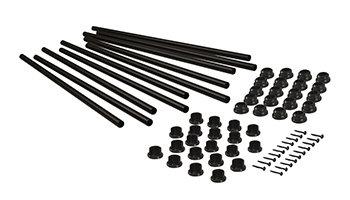 Snap 'n Lock Baluster Connectors™ are in a class of their own compared to any other connectors on the market. You just Screw, Snap... and Lock!

Fast and Easy - All By Yourself

The best thing about the Snap 'n Lock Baluster Connector™ is how simple and hassle free it is to install an entire section of balusters - all by yourself. Traditional insert baluster plugs fit inside the hollow balusters. The balusters fit on the bottom rail plugs without any problem. But then you have to align the ten or fifteen plugs from the top 2x4 rail with the standing balusters. The first two or three go in ok, but then it starts to go bad.

You Know The Drill

As the fourth one goes in, the first one starts to come out. So you start over. But this time with someone else to hold everything together. And then you get to the last baluster and if you're not careful the first one comes apart and you start all over again. It is really hard to install them all by yourself without a lot of frustration and very finicky work.

Perfect For Retrofitting Old Wood Railings

With all the other systems you have to dismantle the railing in order to switch out wood balusters with new aluminum balusters. But with Snap 'n Lock Baluster Connectors™ you are in and out in a fraction of the time! That's because our patent pending friction fit locking system allows you to install them from the side, not top down. If you are retrofitting an old wood baluster rail, it's just as easy... and fast. There is no dismantling the railing to make the switch unlike other systems. Our patent pending friction fit locking system allows you to install them from the side, not top down. So you're in and out in a fraction of the time.

Simple, Carefree Maintenance

Have you ever had to re-stain your wood railing with the standard baluster connectors? If you have you know how long it takes to painfully and carefully stain around each baluster without leaving a ton of paint on them. This problem is over if you use Snap 'n Lock Baluster Connectors™. All you do is take a flat screw driver and pop up the cover so you can stain around the connector shoe with carefree speed. Any over spill with be hidden once you slide the cover back down.

Step Up To Affordable Style And Elegance

And you don't end up with another average run of the mill look. Instead, you get a gorgeous, elegant look thanks to our thoughtfully styled Ogee design. You're stepping up in the world, affordably and hassle free.

You'll Wonder How You Built Without Them

It really does have it all. It's just so simple and fast you really will wonder how you ever built with anything else. And during the course of developing them, we actually tested them with a six year old! So we think you will agree they are incredibly quick and easy.

Hey, it's another very cool idea from the Titan Building Products team - all for you! Enjoy. read more